From diagnostic odyssey to drug discovery: TESS Research Foundation's Collaboration with Neurolentech
Kim Nye's rare disease journey began when she had her first child, Tessa, at the age of 23. Despite a normal pregnancy and clear test results during pregnancy, Tessa faced immediate health problems that puzzled doctors. This marked the start of a ten-year quest for answers and treatments by Kim and her husband, Zach.
During this time, genetic testing was still in its early stages as the human genome had recently been mapped. It wasn't until ten years later, when their fourth child, Colton, was born and exhibited the same health issues, that the pieces of the puzzle started to come together. With advancements in genetic research and testing, clinicians were finally able to identify a shared genetic biomarker in both Tessa and Colton, leading to a diagnosis of SLC13A5 Epilepsy.
SLC13A5 Epilepsy is a rare and severe form of epilepsy that begins in infancy and has long-term impacts on individuals' lives. Seizures typically start shortly after birth and can persist throughout life, although some families can manage them with medication, especially as the affected individuals get older.
Motivated by her children's diagnosis and the need for effective treatments, Kim built an international network of clinicians and researchers. She actively participated in available trials, although they unfortunately did not yield success. Recognising the necessity of larger patient populations for successful trials, Kim set up a Facebook group to connect with other families. Gradually, families joined, forming a close-knit community united in their mission to find treatments for their children.
As families joined the Facebook group, they began sharing their stories and medical information to compare experiences. Kim saw an opportunity to capture this valuable information and establish a patient registry that would support future research efforts. This realisation marked a pivotal moment when Kim understood the collective power of the group in spearheading research and drug development. This led to the establishment of TESS Research Foundation in 2015.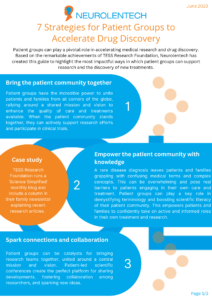 With limited funds focused on an ultra-rare condition, TESS Research Foundation adopted a strategic approach to their funding decisions. With guidance from their expert Scientific Advisory Board and their Scientific Director, the Foundation prioritised research and projects where they could make the most significant impact.Firstly, the Foundation aimed to fill gaps in the research and drug development pipeline. They funded the development of open-source computational models, animal models, patient-derived cell lines, and plasmids. Additionally, they set up a biobank of patient-donated tissue. Building research infrastructure, such as patient registries and natural history studies, was another priority. By placing patients at the centre, they focused on projects that empowered patients and their families to take an active role in managing their health.
To enhance the scientific literacy of their patient community and enable active participation in research, TESS Research Foundation started translating research publications for families. They also launched a monthly blog and newsletter column to simplify scientific terminology.
The Foundation further sought to provide seed funding for early-stage research to expand the understanding of SLC13A5 and potential treatments. This seed funding has played a crucial role in enabling researchers to secure larger grants from national and international funding bodies. Over the past 8 years, the Foundation has leveraged $2.5 million in seed funding into more than $10 million in research funding. By taking calculated risks and supporting early-stage research, TESS Research Foundation aimed to catalyse breakthroughs in understanding and treating SLC13A5.
In their pursuit of advancing research and exploring new avenues, TESS Research Foundation funded a project proposed by Gaia Novarino. Gaia's expertise and inquisitive nature resonated with Kim and her team, making Neurolentech an ideal partner when Gaia co-founded the company.
Now with Fiona Nielsen as CEO and Carsten Pfeffer as CSO at the helm, Neurolentech and TESS Research Foundation have continued to work together to develop cell culture models based on SLC13A5 patient-derived induced pluripotent stem cells, which accurately recapitulate the disorder's pathophysiology. The ongoing research aims to identify pathophysiological changes between control and patient-derived neurons, shedding light on the underlying mechanisms and potential biomarkers for the disorder. These findings will directly contribute to the search for pharmacological treatments.
What makes the collaboration between TESS Research Foundation and Neurolentech truly special is our shared vision and understanding. TESS Research Foundation appreciates Neurolentech's commitment to urgency, transparency, and excellence in research. Working with patient-centred organisations like TESS Research Foundation allows Neurolentech to fulfil our mission of developing new treatments for patients while upholding the highest scientific standards.
SS Research Foundation's remarkable achievements have inspired the creation of a downloadable guide for patient groups, highlighting their invaluable role in supporting research and drug discovery. If you share the passion for accelerating drug discovery for neurodevelopmental disorders, please reach out via [email protected] or at  https://neurolentech.com/contact-page/
A heartfelt thanks goes to Kim Nye and TESS Research Foundation for sharing their story with us.
For more information on How to Accelerate Drug Discovery for Patient organizations, check our downloadable PDF:
JUNE 2023 – 7 Strategies for Patient Groups to Accelerate Drug Discovery
For More information about TESS Research foundation: